Hard Surface Skid Steer Airless Radial Tire Readily Available from Michelin Tweel Technologies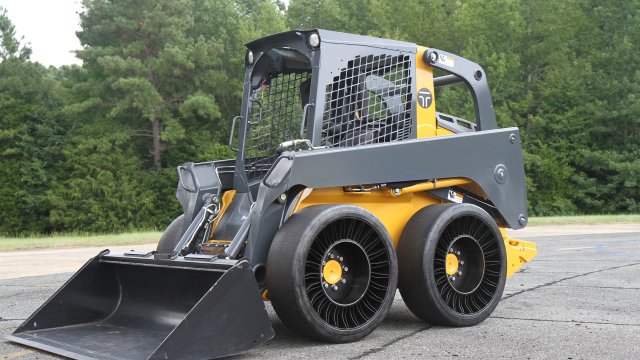 MICHELIN X TWEEL SSL Hard Surface on skid steer
The TWEEL® SSL Hard Surface is designed for operators who are involved with construction, transfer stations, waste handling, pavement maintenance or material handling and benefit from a hard surface version of an airless radial skid steer tire.
MICHELIN Tweel Technologies, manufacturer of the award-winning MICHELIN® X® TWEEL® airless radial tire, has increased its supply of the 12N16.5 X® TWEEL®SSL Hard Surface for operators who work on harsh paved or hard surfaces.The Hard Surface tire, which provides more longevity on pavement and asphalt, presents an option for very-high-use operations.
In appreciation for customer support, Michelin Tweel Technologies is offering a skid steer airless radial special through Sept. 30, 2016. Customers will receive $100 off each tire with the purchase of a set of four SSL Hard Surface tires or a set of four SSL All-Terrain tires (1).
read more